Why Install Vinyl Pool Liners? How To Choose The Right One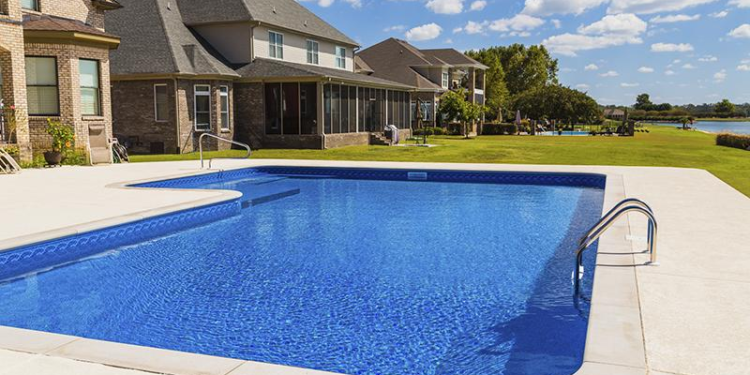 Underground and above-ground pools provide unique benefits. Regardless of the type of swimming pool, it is important to maintain it the right way so it can serve you longer with fun and relaxation. Decades ago, in-ground pools were designed with cement walls and floors. But today, if you consult, a pool builder for new installation or renovation, they are more likely to suggest vinyl liners. Being non-porous and smooth to the touch, vinyl liner enhances the look and protects the water from algae infestation. Before purchasing or installing a pool liner, there are a few factors you should keep in mind.
Thickness
Generally, a thicker pool liner is better. The first thing swimmers come into contact with is the vinyl surface. The main function of the pool liner is to prevent water from wreaking havoc on the pool materials. A thicker liner prevents the inevitable tears that are normally caused by pool toys and swimmers.
Safety and Comfort
Smoother materials for pool liners minimize the risk of injuries like skin cuts. The sand structure of the swimming pool is less damaging when covered with a smooth liner. Vinyl liners are so soft with a few seams that are hardly noticed.
Color
You obviously have an idea of how your pool should look like before calling a pool builder. Since you are getting a vinyl liner, you'll have numerous décor options and you don't have to stick with the traditional blue liner. Unlike gahnite pools that come in a single color, vinyl pools offer limitless design options. For instance, you can opt for patterns imitating tiles, coral reefs, or sports images. Choose a design based on your preferences and aesthetic needs.
Repair and Maintenance
Unless the pool is infested with mold, scrubbing is highly discouraged. But you must keep the liner clean all the time. Maintenance also involves removing rust around metallic parts. While vinyl is considerably thick and hard-wearing, it can still be damaged by sharp objects. But a few tears do not need total replacement. Minor repairs should be easy and less expensive. Replacing the entire liner is not a cheap endeavor and you should only consider it in case of a large tear or hole that cannot be patched. Replacement is also required if the material wears thin or becomes overstretch. Otherwise, you can ask a professional pool builder to replace the liner whenever you need to give your swimming pool a completely new appearance or add value to your property.
Warranty and Quality Packaging
A good dealer of pool liners inspects their product before packaging and sending it to customers. Check to see that the liner is not torn before installation. Make sure that it is shipped and packed in quality materials to avoid damage during transportation. A trustworthy supplier guarantees that the liner will arrive in its tip-top shape as advertised. If the seller doesn't have a warranty, find another one that ensures the protection of a new liner.
The installation of pool liners must not be taken lightly. If done haphazardly, it can cause a heavy financial loss. But properly installed pool liner hardly fails, bulges, or tears. That is why you must always rely on the services of experienced pool builders to do the work for you. You want to enjoy a quality pool for 10 -20 years without worrying about major replacements.
Need a pool installation? Visit openwaterpools.com/location/pool-builder-lakeway-texas/ today.